Rebuttal to Dr. Alan Christianson's Post "Is SIBO a Real Condition"
Xifaxan is not a magic pill. Doctors should not prescribe this first and ask questions later. They should not use this as a crutch (they only have 15 minutes with a patient who continues to come in reporting GI distress and they don't know what else to do with the patient so they try this). I CANNOT stand the Xifaxan commercials (a Super Bowl commercial too!!), with the animated digestive tract walking around, telling people with IBS symptoms to go demand an antibiotic from their doctor. We do not need to keep dumping antibiotics into people, or our environment. Xifaxan is literally the new PPI. We should not be handing this out like candy.
It is also not 80% effective at getting to a negative breath test, no matter how many times Dr. Pimentel (whom I greatly respect) makes this claim. I also do not agree with 'spot testing' – taking a single mark on a breath test and using this as diagnostic to give another round of antibiotics. A methane baseline could be h. pylori, colonic dysbiosis, constipation (too much colonic fermentation skewing the results)…. we need to see a full three hour test to look at the full presentation.
We (medical practitioners) should be trying to disprove SIBO with every patient. What else could this be? How does the patient respond to basic support? Clean up the diet, support digestion, work on stress management, address the system as a whole…probiotics can help, herbal antimicrobials may be necessary, get them out of sympathetic dominance, and look at what else could be loading this system (detox, heavy metals, mycotoxins, other biotoxin illnesses).
If a new patient comes to me with three positive SIBO tests and they have been treating and treating and treating and they are not getting resolution – I still set these aside; it is my job to disprove SIBO first. What else could this be? Rethink the diagnosis and work on stabilizing the patient first.
Dr. Christianson went too far with his statements here – saying the SIBO doesn't exist. A patient came in asking for the right diet – so he researched and didn't find enough evidence that the diet makes a significant difference in the studies, so SIBO doesn't exist? That's a pretty big leap to take.
• The graph he showed, Figure 1- no one should be assessing SIBO by a > 20 ppm rise up to the 180 minute mark. We are looking at the 100-120 minute mark. Qualified, experienced medical providers should be evaluating these tests and then (gasp) we treat the patient. Listen to what the patient's body is trying to tell us. Treat the patient, not the labs.
• He makes the statement "One study saw that 67% of people tested get different results when retested 6 weeks later even though they were given no treatment or dietary change."9 The referenced study is for a fructose breath test hydrogen response – not a glucose or lactulose breath test (Barrett J, Ng PS, Muir J, Gibson P. Letter: oral fructose-breath hydrogen response, symptoms, both or neither? Aliment. Pharmacol. Ther. 2013; 38: 442–3) For the practitioners like me who are seeing SIBO day in and day out… the breath test does not normalize on its own 6 weeks later.
• He is attacking the breath testing more than anything here.
• You can't dismiss a SIBO diagnosis because the FODMAP diet isn't a good treatment. It isn't a direct treatment. It will help address symptoms. No one is stating that food (carbs) caused SIBO and we also cannot state that carbohydrate inclusion or exclusion will make this worse or eradicate this. The diet helps with nutritional status, to calm symptoms, it reduces histamines (in those that need it)… it has its place. **as practitioners it is up to us to figure out how to address the individual patient with diet (isn't this true for all conditions??) – we all understand that there isn't a one size fits five people, let alone one size fits all. This reminds me of mainstream medicine poo-pooing a gluten free diet.
• No one is saying that symptoms match the breath test results, nor are they saying the symptoms experienced during the three hour breath test match the test results. We need to treat the patient, not the lab/ test. The breath test (and all other labs used in clinical practice) help guide the treatment, but they should not dictate the treatment.
• Yes, hypnotherapy works for IBS too- does this mean that IBS doesn't exist?
• His "What to Do" section is ridiculous – Why would someone without digestive symptoms get a diagnosis of SIBO and treat that?? …Of course IBD, celiac, colorectal cancer and others need to be ruled out. SIBO is a SECONDARY condition and a GI screen, ultrasound, etc. should always be a part of the work up.
• For a long time, IBS didn't 'exist' either.
• A jejunal aspirate may miss SIBO, just like a biopsy may miss Celiac disease – the jejunum is 11.5 feet long.
"Is SIBO a Real Condition" is titled to be click bate. Unfortunately, it will simply work to further confuse people with SIBO and get in the way of them getting the help that they really need. AND, what does the blog post image have to do with SIBO? An image focusing on women's breasts? Really Alan? Here is the original post and link so you may read the article.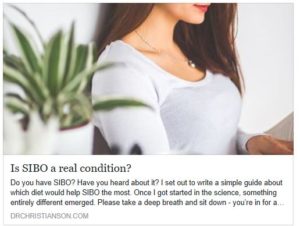 – Angela Pifer, Ms, CN, LCN, Functional Medicine Nutritionist "SIBO Guru"
Enjoying this content? Sign up for updates... It's FREE!