A phase 2 clinical trial on humans is currently in progress that sounds promising; evaluating the effect of lovastatin lactone on methanogens and symptoms in patients with irritable bowel syndrome with constipation.
If you recognized the word 'statin' in lovastatin, yes, you are correct. This is a statin drug!
Statins can inhibit archaeal cell membrane biosynthesis without affecting bacterial numbers as demonstrated in livestock and humans. This opens the possibility of a therapeutic intervention that targets a specific aetiological factor of constipation while protecting the intestinal microbiome. While it is generally believed that statins inhibit methane production via their effect on cell membrane biosynthesis, mediated by inhibition of the HMG-CoA reductase, there is accumulating evidence for an alternative or additional mechanism of action where statins inhibit methanogenesis directly. It appears that this other mechanism may predominate when the lactone form of statins, particularly lovastatin lactone, is administered.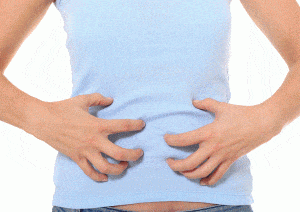 The study is being done by Synthetic Biologics, Inc., who describes themselves as a "clinical-stage company focused on developing therapeutics to protect the microbiome while targeting pathogen-specific diseases."
"Is Lovastatin the Answer for IBS C SIBO Methane Sufferers at SIBO Guru"
↑
Tweet
This
They announced the study and preliminary findings at the  American College of Gastroenterology (ACG) Annual Meeting in Honolulu, HI. The research was sponsored by Synthetic Biologics and performed at Cedars-Sinai under the direction of Mark Pimentel, M.D., FRCP(C), Director of Cedars-Sinai Medical Center's (CSMC) GI Motility Program and Laboratory, and Chairman of Synthetic Biologics' IBS-C Clinical Advisory Board.
"The presentation at the ACG Annual Meeting highlighted the therapeutic potential of SYN-010 (lovastatin) for IBS-C," stated Jeffrey Riley, Chief Executive Officer for Synthetic Biologics. "As we continue to move our IBS-C program through two ongoing Phase 2 clinical trials, this research, along with SYN-010's novel modified-release formulation of the widely prescribed lovastatin lactone, provides a strong body of support for SYN-010's efficacy in reducing methane levels in the gut. We continue to expect topline results from the first Phase 2 clinical trial of SYN-010 during the fourth quarter of 2015, and topline results from the second Phase 2 clinical trial during the first half of 2016."
Synthetic Biologics' proprietary SYN-010 is a modified-release formulation of the lactone form of lovastatin that is intended to reduce methane production by certain microorganisms (M. smithii) in the gut while minimizing disruption to the microbiome. Methane produced by M. smithii is perceived as the underlying cause of pain, bloating, and constipation associated with IBS-C, and published reports have associated higher intestinal methane production with increased constipation severity in IBS-C patients. SYN-010 is intended to act primarily in the intestinal lumen while avoiding systemic absorption, thereby targeting the major cause of IBS-C, not just the symptoms.
The CSMC poster, entitled "Lovastatin Lactone Inhibits Methane Production in Human Stool Homogenates," included data from studies comparing the effects of different statins and statin forms (lactone vs. beta-hydroxyacid) on methane production by stool homogenates from five female donors with high levels of breath methane. Dr. Pimentel concluded that, of the various statins examined, lovastatin lactone was the only effective inhibitor of methane production in the stool homogenates, significantly inhibiting methane levels by -65% compared to the control stool.
"This lovastatin data suggests that SYN-010 has therapeutic potential to diminish the production of methane in the gut, thereby treating the cause of IBS-C, not just the symptoms," said Dr. Mark Pimentel.
I am encouraged at the prospect of a front line treatment to knocking down methane producers! This, coupled with the right herbal antimicrobial protocol and then gut healing and rebalancing may finally offer some long term relief for chronic constipation sufferers with stubborn methanogen levels! I am looking forward to seeing the Phase 2 trial results and I hope that they track these patients out over six months, a year and beyond. We need to continue to look for LONG TERM results for reducing methane producer.
Angela Pifer | Functional Medicine Nutritionist
SIBO Guru
Enjoying this content? Sign up for updates... It's FREE!