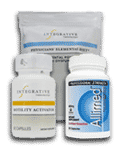 Get 18% off your supplement orders when you join my community!
Effer C (Buffered), Effervescent Powder 240 grams
Description
Douglas Laboratories
Effer C [Buffered] 240g is available by Douglas Laboratories.
HEALTH FUNCTION: Antioxidants, Immune Support
Effer C
A Dietary Supplement
Label Information
Servings Per Container: 96
As a dietary supplement, adults mix 1/2 teaspoon with water or juice daily, or as directed by physician. Makes an effervescent drink when mixed in liquid.
Serving Size: 1/2 teaspoon (approx 2.5g)
Amount Per Serving
Vitamin C ...1175mg
(from calcium, magnesium and potassium ascorbate/ascorbic acid complex)
Calcium ...225mg
(from calcium ascorbate /carbonate complex)
Magnesium ...125mg
(from magnesium ascorbate/oxide complex)
Potassium ...49.5mg
(from Potassium bicarbonate/ascorbate complex)
Other Ingredients: Citric acid and rose hips.
This product contains NO yeast, wheat gluten, soy protein, milk/dairy, corn, sodium, sugar, starch, artificial coloring, preservatives or flavoring
*These statements have not been evaluated by the Food and Drug Administration. These products are not intended to diagnose, treat, cure or prevent any disease.
X
To receive instructions on how to access Apex Energetics, MegaSporeBiotic, Bio-Botanical Research, Klaire Labs, and Designs for Health products please join my community.