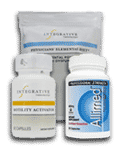 Get 18% off your supplement orders when you join my community!
RevitalAge Nerve, 120 capsules
Description
Pure Encapsulations
Dietary Supplement
Sourced and manufactured to avoid:
Artificial Additives
Allergens
Environmental Contaminants
Added Excipients
Label Information
Recommendations: As a dietary supplement, take 4 capsules daily, in divided doses, with meals.
Supplement Facts
serving size 4 capsules
servings per container 30
Amount per serving
vitamin B12 (as methylcobalamin)† 500 mcg
folate (as Metafolin®, L-5-MTHF) 500 mcg
magnesium 200 mg
(as di-magnesium malate)
acetyl-l-carnitine HCl† 1000 mg
alpha lipoic acid (thioctic acid)† 400 mg
coenzyme Q10 (from MicroActive® 30 mg
Q10-cyclodextrin complex)
pyridoxal 5' phosphate (activated B6) 30 mg
ascorbyl palmitate 40 mg
(fat-soluble vitamin C)
other ingredients: hypo-allergenic plant fiber (cellulose), potato starch, vegetarian capsule (cellulose, water)
Tamper Resistant: Use only if safety seal is intact.
Warning: If pregnant, consult your physician before taking this or any other product. Keep out of the reach of children.
Metafolin® is a registered trademark of Merck KGaA, Darmstadt, Germany.
*These statements have not been evaluated by the Food and Drug Administration. These products are not intended to diagnose, treat, cure or prevent any disease.
X
To receive instructions on how to access Apex Energetics, MegaSporeBiotic, Bio-Botanical Research, Klaire Labs, and Designs for Health products please join my community.