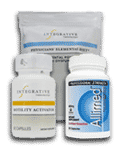 Get 18% off your supplement orders when you join my community!
Motility Activator, 60 capsules
Description
Integrative Therapeutics
supports gastric emptying in a dose-dependent manner
promotes soothing digestion
supports serotonergic and cholinergic neurotransmission, which stimulates healthy motility
Label Information
Servings Per Container: 60
Take 1 capsule twice daily, or as recommended by your healthcare professional.
Serving Size: 1 Capsule
Amount Per Serving
Proprietary Blend ... 248mg
Pycinil® Artichoke (Cynara cardunculus)
Leaf Extract; Ginger (Zingiber officinale)
Root Extract
Other Ingredients: hydroxypropyl methylcellulose (vegetable capsule), cellulose
This product does not contain:
Sugar
Salt
Yeast
Wheat
Gluten
Corn
Soy
Dairy products
Artificial colors
Artificial flavors
Preservatives
Ingredients of animal origins
*These statements have not been evaluated by the Food and Drug Administration. These products are not intended to diagnose, treat, cure or prevent any disease.
X
To receive instructions on how to access Apex Energetics, MegaSporeBiotic, Bio-Botanical Research, Klaire Labs, and Designs for Health products please join my community.