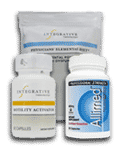 Get 18% off your supplement orders when you join my community!
Marshmallow Root Tincture (Althea)
Description
Gaia Organics

Soothing Support for Mucous Membranes
Natural Mucilage From Marshmallow Root Moistens and Cools Occasional Irritation
Label Information
Take 30-50 drops of extract in a small amount of water 3 times daily between meals.
Serving Size: 30 drops
Amount Per Serving:
Extract:
organic fresh Marshmallow root
(Althaea officinalis)
in Water and Organic Grain
Alcohol USP (20-30%)
Minimum Fresh Herb Stength Ratio: 1:3
*These statements have not been evaluated by the Food and Drug Administration. These products are not intended to diagnose, treat, cure or prevent any disease.
X
To receive instructions on how to access Apex Energetics, MegaSporeBiotic, Bio-Botanical Research, Klaire Labs, and Designs for Health products please join my community.