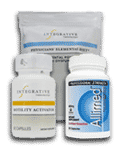 Get 18% off your supplement orders when you join my community!
Gentian and Skullcap, 90 Capsules
Description
Wise Woman Herbals
Dietary Supplement
Soothes mild nervous tension while promoting normal healthy digestive function.
Label Information
Servings Per Container: 45
Take 2 capsules, 2-3 times per day.
Serving Size: 2 capsules (960mg)

Amount Per Serving
Calories ... 5
Cabohydrates ... 1g
Gentian ... 480mg
(root)
Skullcap ... 480mg
(herb)
Other Ingredients: 100% vegetarian capsules.
*These statements have not been evaluated by the Food and Drug Administration. These products are not intended to diagnose, treat, cure or prevent any disease.
X
To receive instructions on how to access Apex Energetics, MegaSporeBiotic, Bio-Botanical Research, Klaire Labs, and Designs for Health products please join my community.